Singapore will surprise you with her share of wildlife and nature. Some of the garden city's most unexpected gems is the hidden-away pocket of greenery that is Bukit Timah Nature Reserve.
Start your exploration of the reserve at the Bukit Timah Hill Visitor Centre. Here, you can learn about the varieties of flora and fauna that can be found in the park. The visitor centre's exhibition gallery includes interactive touchscreens, informative forest ecology and tree-spotting displays, as well as the centerpiece—two majestic Sumatran tiger replicas (an homage to the real Sumatran tigers that used to roam the reserve).
Gallery displays aside, the reserve is also home to plenty of natural biodiversity such as long-tailed macaques and a variety of bird species. Word to the wise: come prepared with mosquito repellent, and don't feed the monkeys.
Take a hike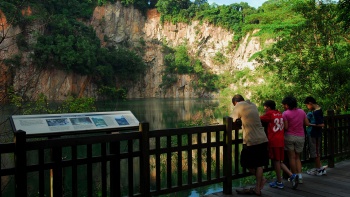 The reserve is where you can find Singapore's highest hill, Bukit Timah Hill. Challenge yourself to a trek up its 163-metre-high slopes, on trails that wind through pockets of forested areas. The trails are easy to follow, having been revamped in 2016 with new steps, boardwalks and rope railings. There are several walking routes of varying difficulty you can explore, depending on whether you want a leisurely stroll or a full workout.
For those who prefer to explore the reserve on wheels rather than on foot, there are also demarcated biking routes you can follow. Check out this map for more information on the park's trails.
The reserve is also connected to the neighbouring Central Catchment Nature Reserve via the Eco-Link@BKE. The Eco-Link is an ecological bridge 62 metres in length that spans the Bukit Timah Expressway. It's designed to encourage wildlife to expand their habitat by using the bridge to travel between the two nature reserves.
Things to do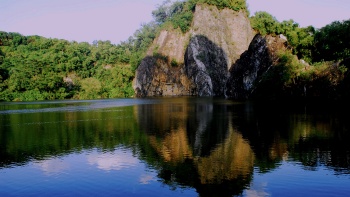 Bukit Timah Nature Reserve makes for a great family-friendly destination. Spend a weekend morning leaving the bustle of the city behind, and bring the kids for short nature appreciation walks through the reserve. Take note, though, that some of the routes up Bukit Timah Hill can be tough work, so be sure to prepare for your trek accordingly.
Kids and their parents can bond over some arts and crafts at the I heART Nature workshop series, or even embark on a short nature appreciation walk in the reserve. For something even more immersive, try the Nature Keeper Programme, where young ones get to learn about the protection and conservation of wildlife in the reserve. Interested? Sign up for a workshop here.