Once an enclave for Singapore's Chinese immigrant population, the Chinatown of today is a beloved blend of old and new, with historic temples and medicinal halls sitting alongside award-winning bars and restaurants. 
You'll be able to spend an entire day exploring this vibrant district, which encompasses the neighbourhoods of Tanjong Pagar, Bukit Pasoh, Kreta Ayer and Telok Ayer.
Whether you're exploring century-old temples or soaking in the vibes at hip watering holes, there's always a new experience to be had in Chinatown.
A tapestry of cultural diversity
Lovers of culture looking to immerse themselves in Singapore's rich, multi-ethnic culture will find no better place than Chinatown. This beautiful district is the only Chinatown in the world to boast a Buddhist temple, mosque and Hindu temple along a single street.
Your journey into Singapore's religious traditions begins at the Buddha Tooth Relic Temple & Museum.
The temple's interior is architecturally designed in the form of a mandala, a central concept in Buddhist and Hindu spirituality that represents universal connection. Hunt around the compound, and you'll find hidden gems like a rooftop garden adorned with a beautiful pagoda and a food court selling vegetarian cuisine.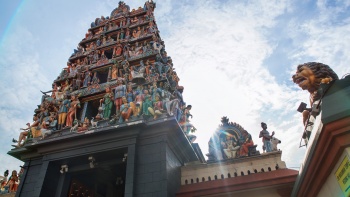 From the Buddha Tooth Relic Temple & Museum, take a short jaunt down South Bridge Road, and keep an eye out for Sri Mariamman Temple, the oldest Hindu temple in Singapore. While the statue of this temple's patron deity is only unveiled on special occasions, the temple's interior is a wealth of murals and shrines, dedicated to gods like Shiva and Durga.
Located just a stone's throw away on Mosque Street is Masjid Jamae, built as a place of worship for Chinatown's Tamil Muslim population. Colloquially referred to as Periya Palli ('Big Mosque' in Tamil), the mosque's iconic architectural style —which fuses Indo-Islamic and Neoclassical elements — makes it a must-see.e
A taste of old and new
Whether you're planning to dig into traditional flavours or crave fusion and experimentation, Chinatown's diverse food offerings are certain to sate your appetite.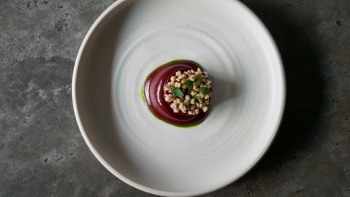 Michelin-starred restaurants abound across the district's four neighbourhoods, from traditional Irish fare at Cure and French-Japanese fusion cuisine at Meta to the botanically-inspired creations of lauded local chef Jason Tan at Euphoria.
If you're hankering for hearty hawker fare instead, we recommend dropping by hawker centres like Amoy Street Food Centre, Maxwell Food Centre or Chinatown Complex Food Centre.
The latter is certainly worth noting — Singapore's largest hawker centre is home to over 260 food stalls, selling staples like popiah (spring roll with vegetables and assorted fillings) and claypot rice.
Tipples and Bar Talk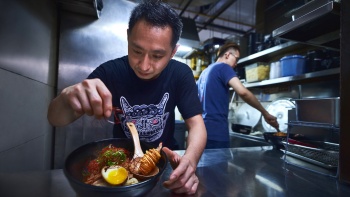 Besides being home to culture and tradition, Chinatown is also a neighbourhood filled with buzzing bars where you can socialise over a tipple.
Many of these watering holes have been lauded on the list of Asia's 50 Best Bars, and include renowned bars like Jigger & Pony —which serves up classic cocktails with modern panache — Tipping Club and its experimental menu and charming speakeasies like Sago House.
If you're in the mood to party, the district is also home to Potato Head Singapore. Located within an iconic heritage building, this multi-concept space boasts a rooftop bar, cocktail lounge and restaurant, with a vibrant calendar of live DJ performances.